Who runs H4C?
Hoes For Clothes is a partnership run by Sasha Tarnovsky and Andrew Burror. Together we design, digitze, and produce every piece you see in addition to running marketing campaigns and managing all social media accounts and emails. If you ever see us around, say hi! :)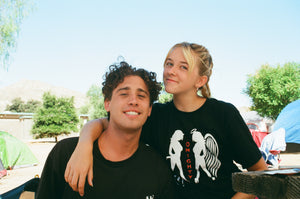 H4C on Sustainability and Accountability
As H4C evolved from a thrifting reselling business to its own brand, the concept of sustainability remained a priority. Unfortunately, the blanks used in orders can not be second hand since locating the exact size or color you want to use is not possible, meaning the items are new. We use about 5 different brands for our blanks, our main one being LA based and fully manufactered here in California with ethical wages. The rest come from WRAP certified companies or are manufactured for us by a lovely, small, ethical factory in China. However! We continue to offer sustainable alternatives to these products such as the "sending in your blank" option (just email us), vintage crew mystery grab bags every season release, and weekly OOAK (one of a kind) upcycled items & products on second-hand blanks. We hope in the future as our budget's grow be able to work with blank suppliers that offer even more sustainable choices, such as recycled materials and fabrics. Any polite questions on these topics are fully encouraged as we are always looking to learn or help explain, shoot us an email at hoesforclothes.info@gmail.com :)
WHAT DOES "MADE TO ORDER" MEAN?
Every single product we sell, unless stated otherwise or listed in the "OOAK" section is made to order. This means that we do not begin making your item, or even ordering your blank, until after you place your order for it. According to Eco-Age, a made to order business model "drastically helps to reduce waste and levels of the surplus stock ending up in landfills." Additionally, Made To Order is the reason why we are able to offer such a large variety of customizations and size/color range to our pieces - we don't have to keep piles of stock of each lying around. While this does mean that you have to wait anywhere from 1-6 weeks for your order, just know your patience is paying off! We appreciate your understanding. :)